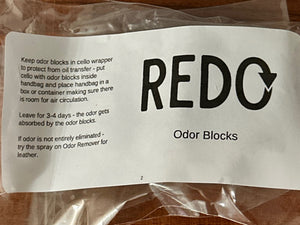 Odor eliminator for vintage purses. Follow the instructions on the label, and removes smoke, perfume, and other strong scents in used purses.
If this does not work your item may require a stronger degree of care and we recommend our odor remover for leather spray. 
Product Features:
Advanced Odor Absorption Technology
Long-lasting Effectiveness
Versatile Use in Various Settings
Eco-friendly and Non-toxic Ingredients
Product Benefits:
Banishes Unwanted Odors at the Source
Creates a Clean and Pleasant Environment
Suitable for Homes, Offices, and More
Promotes Healthier Indoor Air Quality
Additional Details:
These Odor Removing Blocks harness cutting-edge technology to eliminate even the most stubborn odors, leaving your surroundings refreshed and revitalized. With their compact design, these blocks seamlessly fit into any space, making them an ideal choice for maintaining a fragrant atmosphere in homes, offices, and beyond. Crafted with eco-friendly and non-toxic ingredients, they are safe for both people and the planet. Say goodbye to unpleasant odors and welcome a world of pure, invigorating scents!
Ready to Transform Your Space? Shop at Redo Luxury Today!